As cryptocurrency traders wonder when the bleeding will stop, the bitcoin price has slid below $7,000 USD at press time. A new chart from Bloomberg shows the current bitcoin crash as being the fourth sharpest in the cryptocurrency's entire history. 
Also read: China Plans to Block Access to Foreign Cryptocurrency Exchanges
Subscribe to the Bitsonline YouTube channel for more great videos featuring industry insiders & experts
Historic Selloff, but Not the Worst
During the cryptocurrency bull run in the second half 2017, a common caveat to new investors was that crypto prices could retrace from all-time highs in short order by 10, 20, even more than 50 percent. Well, this week the latter figure — a +50 percent drop — has come into play in the ongoing bitcoin crash.
Indeed, the bitcoin price has now fallen more than 60 percent from its price peak over $19,500 late last year.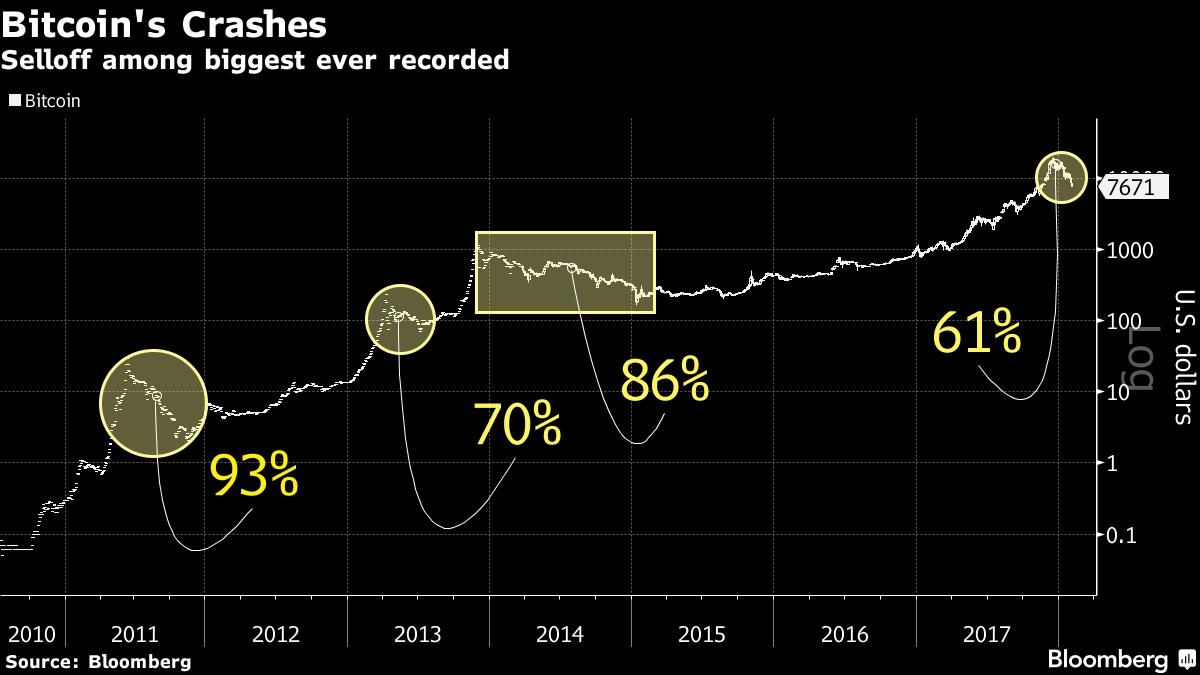 So this bearish dive is not the mother of all selloffs — at least not yet. But it has begun to enter the periphery of the conversation.
Investors Are Taking Refuge
Traditional and cryptocurrency investors are spooked currently, to say the least. The U.S. stock market saw more than $1 trillion dollars exit just last week, and billions have similarly fled from cryptocurrencies like bitcoin and ether in the same span.
The winners in the ongoing downturn — where investors seem to be fleeing with their withdrawn cash — include gold bullion, as well as other established steady hands like European bonds and fiat havens like the Swiss franc and the yen.
How long the current bearish trend will last, no one knows. But there aren't any apparent signs that the cryptoeconomy has turned the corner just yet. The bleeding may go on a bit further.
What do you think? Is this about as far as the market will drop, or do you think this bearish slide could go much further? Sound off in the comments below.
---
Images via Bloomberg, Quartz Media