International Monetary Fund (IMF) director Christine Lagarde, who has previously written on the "dark side" of cryptocurrencies, has now authored a new post on the cryptoverse's nobler potentials. "A clear-eyed approach can help us harness the gains and avoid the pitfalls of the new crypto-assets landscape," she argued therein. 
Also see: On Facebook: To Get Privacy Done, We Need Blockchain
Join the Bitsonline Telegram channel to get the latest Bitcoin, cryptocurrency, and tech news updates: https://t.me/bitsonline
Lagarde: 'Fast, Inexpensive'
In her latest post, Christine Lagarde noted that "Answers are already starting to take shape" as to the potential benefits that crypto-assets, as she dubs them, will bring to the world of finance.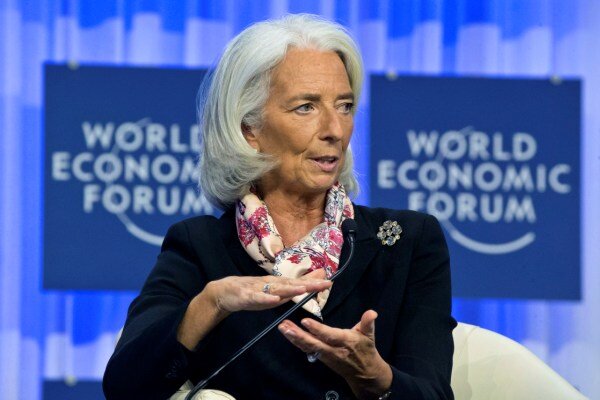 She describes how cryptocurrencies engender "fast and inexpensive financial transactions, while offering some of the convenience of cash." Furthermore, the distributed ledger — or blockchain — technology underlying such digital assets can, per Lagarde, "help financial markets function more efficiently. Self-executing and self-enforcing 'smart contracts' could eliminate the need for some intermediaries."
The IMF head also cited the ability to guarantee "Secure storage of important records" via the blockchain, as well as the potential of the cryptoverse to "secure property rights, increase market confidence and promote investment" in developing economies in the years ahead.
All bullish talk, especially coming from one of the world's most recognizable financial figures.
Bringing Balance to the Force
On the topic of centralization vs. decentralization, Lagarde wrote that a major promise of the cryptoverse lies in its potential to bring balance to markets through competition and blending:
"There is hope […] that decentralized applications spurred by crypto-assets will lead to a diversification of the financial landscape, a better balance between centralized and de-centralized service providers, and a financial ecosystem that is more efficient and potentially more robust in resisting threats."
Coincidentally, her comments here seem vaguely reminiscent of one of the most recent tweets from Ethereum co-creator Vitalik Buterin, wherein he envisions bringing decentralized competition to bear upon trusted third party services for the betterment of markets everywhere:
I recommend crypto discourse changes emphasis from "eliminating the middlemen" to some combination of "shackling the middlemen" and "making the market for middlemen more competitive".

— vitalik.eth (@VitalikButerin) April 17, 2018
Lagarde Calls for International Cooperation
Lagarde concluded by arguing that global coordination will be key in order to successfully come to terms with the cryptocurrency ecosystem:
"Before crypto-assets can transform financial activity in a meaningful and lasting way, they must earn the confidence and support of consumers and authorities. An important initial step will be to reach a consensus within the global regulatory community on the role crypto-assets should play. Because crypto-assets know no boundaries, international cooperation will be essential."
And with her closing words, she called for fairness, saying "we need an even-handed regulatory agenda, one that protects against risks without discouraging innovation."
What's your take? Are the world's financial leaders starting to catch on, or pre-empt, the rise of crypto? Sound off in the comments below. 
---
Images via CNBC, csmonitor