Weeks ago, western cryptocurrency traders marveled at the premium prices South Korean crypto traders were paying to get their coins, the so-called Kimchi Premium. Now, it looks like that phenomenon is over, as South Korean cryptocurrency prices have finally slid back down to international levels this week. 
Also read: TNABC Miami 2018 Video Report: Switching Chains, With Steve Beauregard of GoCoin and Bloq
Subscribe to the Bitsonline YouTube channel for more great videos featuring industry insiders & experts
South Korea Joins the World Again
For the first time in nearly two months, cryptocurrency prices in South Korea have fallen back down to the rest of the world. During the peak of the cryptoeconomy's recent bull run, South Korean traders paid more than 50 percent in some cases to buy the same cryptocurrencies that westerners were buying for half the price.
That led to a situation in January 2018 where the Korean bitcoin price was nearly $8,000 USD higher than the bitcoin price averaged among the top international exchanges.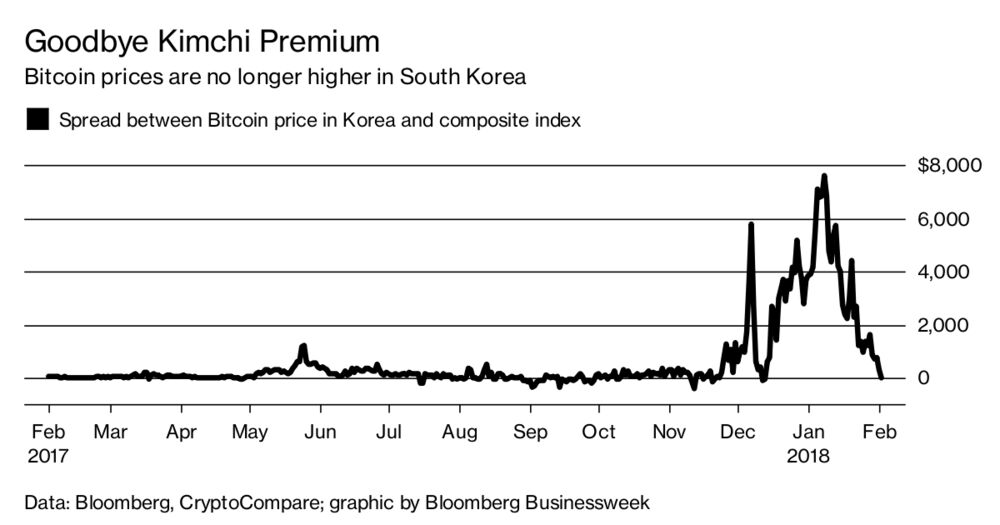 That doesn't mean traders were exploiting the arbitrage possibilities, as the South Korea cryptoeconomy has been more or less isolated from the West by design.
Could CoinMarketCap Reconsider Now?
Popular global cryptocurrency price site CoinMarketCap caused outcry weeks ago when it announced it would be excluding South Korean exchange data from its price averages going forward — the Kimchi Premium was simply skewing unrealistically high for westerners.
Now that such a premium has evaporated, though, there's seemingly no reason to maintain the exclusion any longer
We'll have to watch and see how CoinMarketCap reacts in the coming days.
What's your take? Do you think it's good that South Korean cryptocurrency prices have come back down to earth as compared to the rest of the world? Let us know where you stand in the comments below. 
---
Images via Koogle TV, Bloomberg Business