PotCoin Wants to Fund Dennis Rodman's Trip to North Korea Summit
June 7, 2018 by William Peaster 0 Comment 6132 Views
Marijuana industry crypto play PotCoin is reportedly in negotiations to fund the trip of Dennis Rodman — the lightning rod ex-NBA baller who's one of the few Westerners to have a relationship with North Korean Supreme Leader Kim Jong-un — to the forthcoming U.S.-North Korea summit in Singapore. It's an atypical marketing strategy, to say the least. 
Also Read: Chinese Crypto-Mining Chip Company Bitmain Considers IPO
Join the Bitsonline Telegram channel to get the latest Bitcoin, cryptocurrency, and tech news updates: https://t.me/bitsonline
Put Me In … Coach?
The Singapore summit, set to take place in the second week of June, has the entire international community nervously cued in, with experts and couch quarterbacks alike wondering whether a detente or further diplomatic deterioration will ensue between the United States and North Korea. Indeed, the relationship between the U.S. and the nuclear upstart North Koreans had seemed on the verge of boiling over in recent months as President Trump and Kim Jong-un sparred repeatedly through the press. Yet developing negotiations between CIA Director-turned-Secretary of State Mike Pompeo and the Hermit Kingdom's young leader have actualized the "historic summit" that has frankly caught much of the world by surprise.
In other words, the whole international stage will be watching Trump and Kim Jong-un's dealings next week. And that reality is not lost on PotCoin, a marijuana industry cryptocurrency who is seeking to capitalize on the event.
How? By pulling strings with Dennis Rodman, the Naismith Memorial Basketball Hall of Fame inductee and repeated guest of Kim Jong-un.
PotCoin Interested in Backing Rodman Again
Rodman has visited North Korea and been the personal guest of its "rogue" leader a handful of times. PotCoin had previously sponsored his travel to the nation before, so the relationship was already there between Rodman and the crypto play going back to last year.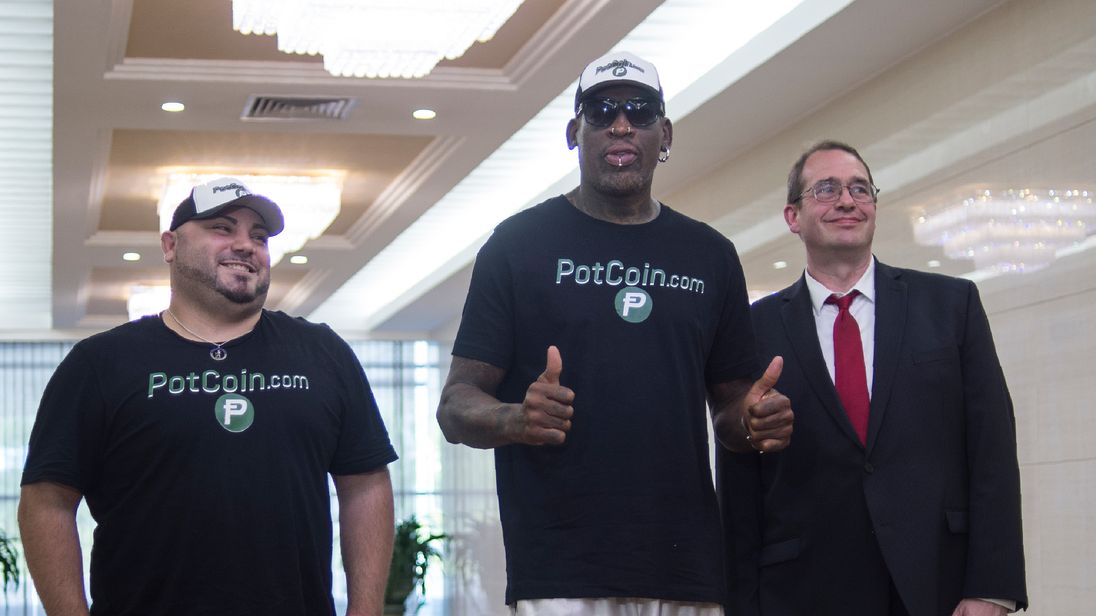 Nothing is settled yet, but PotCoin is reportedly in talks with Rodman's agent, Chris Volo, to make a Rodman cameo at the coming Singapore summit a reality.
Accordingly, PotCoin spokesman Shawn Perez noted to WaPo:
"The PotCoin team as a community has been incredibly supportive of Rodman's peace mission from the beginning. We're thrilled to see how the political climate has improved between North Koreans and the U.S. since he became involved."
It's clear the crypto team sees the move as bold enough to catch peoples' attention and contribute toward brand awareness — a key emphasis in the face of nug-friendly competitors like HempCoin, CannabisCoin, and Tokes Platform, all of which seek to address in their own ways the marijuana industry's "cash problem."
On the flip side, even if Rodman were to attend the summit, he would presumably have little to do except watch from beyond the sidelines like the rest of the globe.
"We have no comment on Dennis Rodman's private travel," a State Department spokesman said. "He's not a representative of the U.S. government."
Well, John McAfee's Got a Summit Prediction
On a more peripheral note, controversial crypto pundit and recent meme-lord John McAfee predicted last month that the cryptoeconomy will shift into bullish gear on the precipice of a successful deal forged between Trump and Kim Jong-un in Singapore.
My short term price predictions: in a major dip, with nearly everything dropping, the price of Docademic doubled since my prediction. The market will turn before June 12th and my predictions will hit. My algorithms predicted Trump's June 12th date. They have never been wrong. pic.twitter.com/IGAzWPtOV4

— John McAfee (@officialmcafee) May 24, 2018
Hoopla, hilarious, or heady stuff depending on who you ask. But we all know McAfee will be the first person to say "told you so" if a peace agreement of some kind is forged next week.
What that would exactly mean for crypto — and the world — remains to be seen.
What's your take? Is PotCoin's marketing strategy the proper mix of flash and insurgency, or does it cross into gimmick territory? Let us know what you think in the comments below.
---
Images via Sky News, The Sun