Seattle Seahawks superstar cornerback Richard Sherman is a self-described investor in bitcoin, ether, and litecoin, so he's a believer in the space. But when his grandmother — who doesn't own a computer — asked for for help getting some BTC, Sherman told her bitcoin is not necessarily suited for her right now. 
Also read: Fundstrat's Tom Lee: "Great Crypto Rotation" Coming in 2018
Subscribe to the Bitsonline YouTube channel for more great videos featuring industry insiders & experts
Sherman: Nah, Grandma
Sherman's no rookie when it comes to cryptocurrencies. The four-time All-Pro cornerback got into digital assets as far back as 2014, when he started offering bitcoin buys on his personal merch website.
"I had heard about the idea and the premise behind it being kind of like a universal currency, [mitigating] concerns about exchanges and stuff like that, and I really thought that was innovative. I could appreciate that idea, and I just wanted to get involved," Sherman explained in new comments to the press.
And, as you can imagine, the NFL star started taking the space even more seriously back during last year's incredible summer bull run. It was then that Sherman started buying bitcoin when it was still hovering around $2,000 USD.
As the year came to an end, and the bitcoin price started surging, Sherman couldn't escape the OG cryptocurrency. He noted that even his grandmother started wanting in, asking if it was possible for her to "hang on" to a few:
"You couldn't go anywhere when bitcoin was at $19,000 and not hear somebody. I mean, when I heard my grandma talking about it, I was like, 'Oh yeah this is way too big if my grandma is talking about bitcoin'" […] "My grandma doesn't have a computer!"
Knowing that, Sherman knew his grandmother wouldn't be able to wrap her head around the many difficulties inherent to the early cryptocurrency space.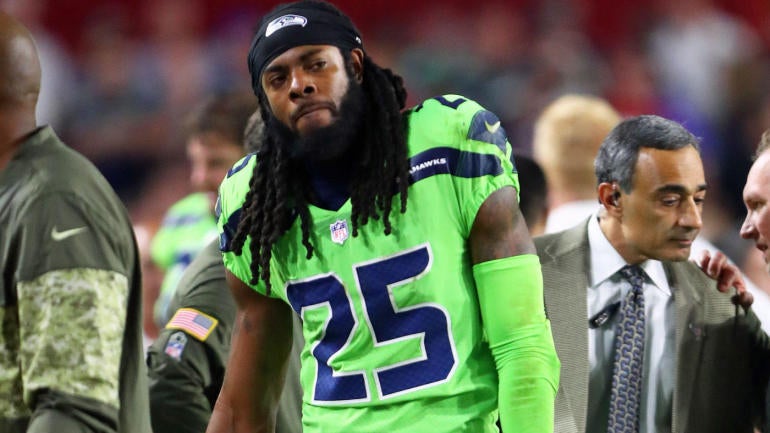 So, he talked her down:
"I just told her that it was a fad, and that it is tough to invest. Once she got to the point when she had to get on the computer and get on websites and do all that, she kind of lost interest."
Sherman Teams Up with Cobinhood
Over the past few weeks, Sherman's partnered up with the start-up cryptocurrency exchange platform Cobinhood. He'll now be a spokesperson for the project going forward.
Knowledge is power! This is what I'll be doing while I'm away from the field… Learning about Crypto and how to trade coins #COBINHOOD #Cryptocurrency #ad pic.twitter.com/bFL7yxvg9l

— Richard Sherman (@RSherman_25) December 12, 2017
With that said, Sherman's not going anywhere — he's in it to win it in the cryptoverse.
What's your opinion? Should Sherman have been more lenient and picked up a few bitcoins for his grandmother? Let us know what you would've done in the comments below.
---
Images via Seattle Times, CBS Sports